Building a perfect team is crucial in case if you just started your business. Because the entire future of your business, whether to be a success story or a failure, is greatly dependent on the team members. So, picking the perfect from the pool, establishing the momentum, driving them to the goals, is necessary.
It is also the same in case if you are building your team within an established organization.
Here are the 10 simple tips on how to build an effective team.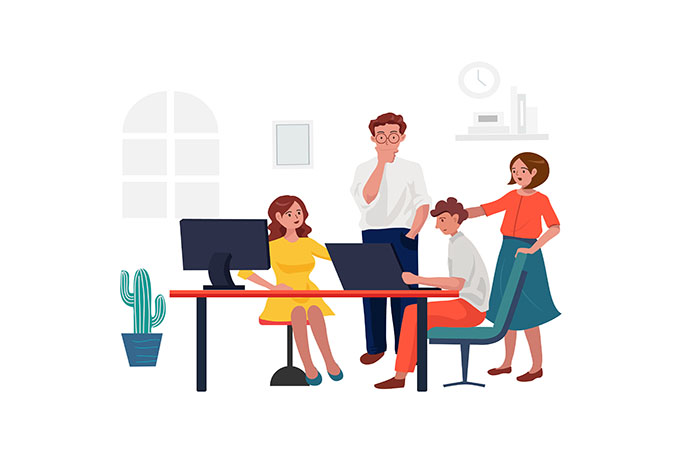 The 10 tips mentioned below can help you to
Build a strong team
Managing your team effectively
Increase productivity
Streamline the workflow and
Improve employee satisfaction.
Altogether, making your team an effective one.
1. Pick the Perfect Team Members
Spend some time before you select a person for your team. This step is important because hiring or taking an existing member who doesn't have the right skills (at least the basics) to fulfill his role will be of no use.
Also, observe the individual's behavior constantly along with their strengths and weaknesses. A team member who lacks interest in work or who doesn't care much about the issues can influence the other employees in a negative way, decreasing the overall productivity.
So, dealing with such candidates is essential to keep your progress on track.
2. Defining Roles and Responsibilities
It is important that you define the roles and responsibilities of the individuals and what you are expecting from them. You should also make sure that each one of your team members also knows their co-worker's responsibilities as it helps to give a better understanding of their team, workflow, and whom to contact in special situations.
Before assigning the roles and responsibilities, the team leader must estimate the capabilities, skills, and special talents of the individual team members and decide accordingly.
3. Supportive and Knowledgeable Leadership
Leadership is another major factor that makes your team an effective one.
So the person whom you prefer the Team leader must have all the skills and talent to run the team, managing the conflicts, understanding individuals, building trust, driving towards the goals, encouraging, and involving team members in strategies and so on.
So, the right leadership is essential while building effective teams. They must also treat all the team members equally and should never be partial to their favorites as it influences the others in the team a lot and disrupts the harmony of the team.
4. Perfect Planning, Setting Goals and Creating a Team Vision
Clearly defined goals help the team members to get an idea about the ultimate thing they need to achieve.
Also, goals help the members to align and work in the same direction. At the same time, perfect planning and designing the work gives an idea and sets a strategy for team members on how to achieve the desired outcome.
And to make your team a more successful one, create a team vision, values and try to embed them in the framework of your team. They help a lot to bind the team together and work accordingly.
5. Inviting Ideas and Contributions
Inviting team members for ideas and contributions is another factor that helps to build an effective team.
It is also a good thing to share the power in appropriate situations like planning, strategy, and implementation between the team leader and the members as a group and allow the team members to contribute their ideas or even criticism without any fear of reprisal.
By adopting such a system, it really helps to generate value added ideas. This also helps a lot to understand the issues at the grass-root level and deal with them instantly.
Moreover, this type of system gives the signals of ownership to the team members and helps to make an effective workflow.
6. Open Communication
Having open and honest communication between the management, team leader, and team members are really essential to avoid several problems that occur in the process of achieving the goals.
Keeping the communication open makes the team members feel more comfortable while discussing the issues or any problems with the managers or the leaders. Also, it builds a lot of trust across the employees.
7. Continuous Monitoring and Feedback
Constant monitoring and feedbacks help a lot to understand the performance of your team, track the goals, overcoming conflicts, or dissatisfactions.
Monitoring the performance of team members is very important to understand their progress with respect to their roles. This helps to identify the members who don't meet the expectations. In the course, you can mentor them and make them strong enough to support the team.
Make sure to handle the mistakes of individuals in a positive way rather than in an attacking mode. Make those team members feel supported and make them feel as it's a great opportunity for improving themselves.
With timely monitoring, you not only keep track of progress, but you can even give feedback to your employees frequently rather than having a touchpoint every quarter or for 6 months. With this, you can easily fix the issues and get the work into the track.
It's good to keep your feedbacks every fortnight and make it short and clear. Just a 10-15 mins session with a team member is enough. It helps you to focus on current events rather than on the things that happened 3 months or 6 months ago.
8. Keeping an Eye on Internal Politics
Internal politics in a team and injustice in rewards are some of the main factors that influence a team member(employee) to choose a new path or another company in his carrier.
If you are an owner of a business, keep an eye on the internal politics going on in your teams, spend some quality time, interact with the team members periodically, and know about the issues, difficulties, and the dark side (if any).
This not only helps to know what's happening internally in your company but to build a lot of trust across your employees.
Being an owner, if you can't manage due to the time constraints, appoint a genuine person (not from leadership members) to deal with these tasks.
This process of interaction and keeping an eye on internal politics can help a lot to manage your talent pool at the same time, providing a greater environment for productivity and giving strong signals to the leadership members about their behavior and strategies at work.
Be known that just asking about issues and difficulties isn't enough, but you need to deal and resolve them in order to build an effective team.
9. Recognition, Rewards and Ensuring Job Satisfaction
Every team leader wants their team to be more productive and achieve the targets in time. It's especially important for startups and small businesses.
But in the meantime, more productivity, heavy workload, stress can lead to employee dissatisfaction.
However, a small word of appreciation is enough to relieve a lot of stress from the minds of your employees.
The simplest thing you can do is to appreciate the team's work. Also, be known not to go for individual recognition as it introduces an unhealthy environment in your team.
Let the management recognize the team's work whenever necessary.
Occasional recognition from the CEO or the owners of the business to the teams that thrive business will have a lot of positive impact on the team members and gives great satisfaction in their hearts and for their hard work.
Apart from recognizing or acknowledging, rewards are a great way to keep the employees satisfied.
But don't just go for an individual reward but rather to a team reward if you wish to reward individuals basing upon your business situations, its good to reward a pool and celebrate the success for the entire team such that not to bring any unhealthy environments or dissatisfactions.
10. Accountability
Although some management feels harsh on implementing accountability, it is one of the most effective ways of getting the results. There is no harm, in case you just want to make your employees accountable for what you pay.
It's a really good idea to implement accountability from the starting of the business, rather than implementing in the middle, where the conditions of your business are worrying and sure it will be a big shock to your employees or team members if you implement all of a sudden.
There is also another way of implementing accountability from the start of your business, that is by making accountable on specific projects or large tasks or even short periods of time, such that to habituate an environment to your employees as well as to increase productivity.
Be known that just rewards and recognitions just won't be enough to improve productivity and make the team effective. In the long run, employees get habituated to the accountability system and won't feel much burden if the management takes care of them in all other ways.